29/09/2023
2023 Marked Another Remarkably Successful Year for the Sustainable Design China Summit in Beijing, Showcasing Pioneering Global Innovations To Tackle Climate Change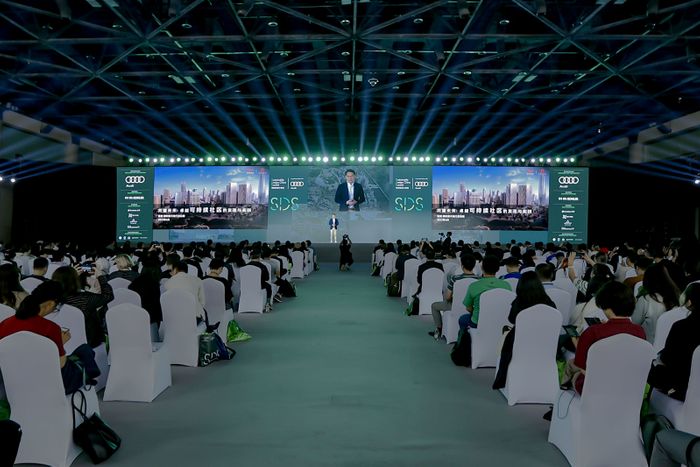 Building on last year's inaugural edition the Sustainable Design China Summit highlighted how the design, architecture and commercial industry can come together to make meaningful change in tackling the climate emergency.
Held at the Beijing Exhibition Centre from 21-23 September 2023, over 2000 professionals attended Sustainable Design China Summit with exhibition visitor numbers reaching over 5000 with 75% being trade visitors, proving the value of providing a platform for the visionaries and innovators from design and architecture as well as the developers and academics who share a mission to create positive sustainable change.
There were six key themes running across the three days of the Sustainable Design China Summit:
Day One
Theme 1:Designing a Sustainable Future
This theme explored how spatial design plays a significant role in some of the world's biggest climate challenges covering nature-positive design, biodiversity, Sponge Cities and Passive House design and how these are essential strategies to develop a sustainably driven society.
Speeches delivered by the keynote speakers during the event were very well-received. Orianna Fielding, the Chief Sustainability Advisor & Content Director of the Summit opened the three days of thought-leading talks and workshops on 21 September. She shared the message that "Sustainability does not have an end date" and highlighted to the assembled guests at the Summit that "We are living in extraordinary times and that our planet, is experiencing unprecedented challenges brought about by rapid shifts in our climate. Climate change is shaping our lives and reshaping our world."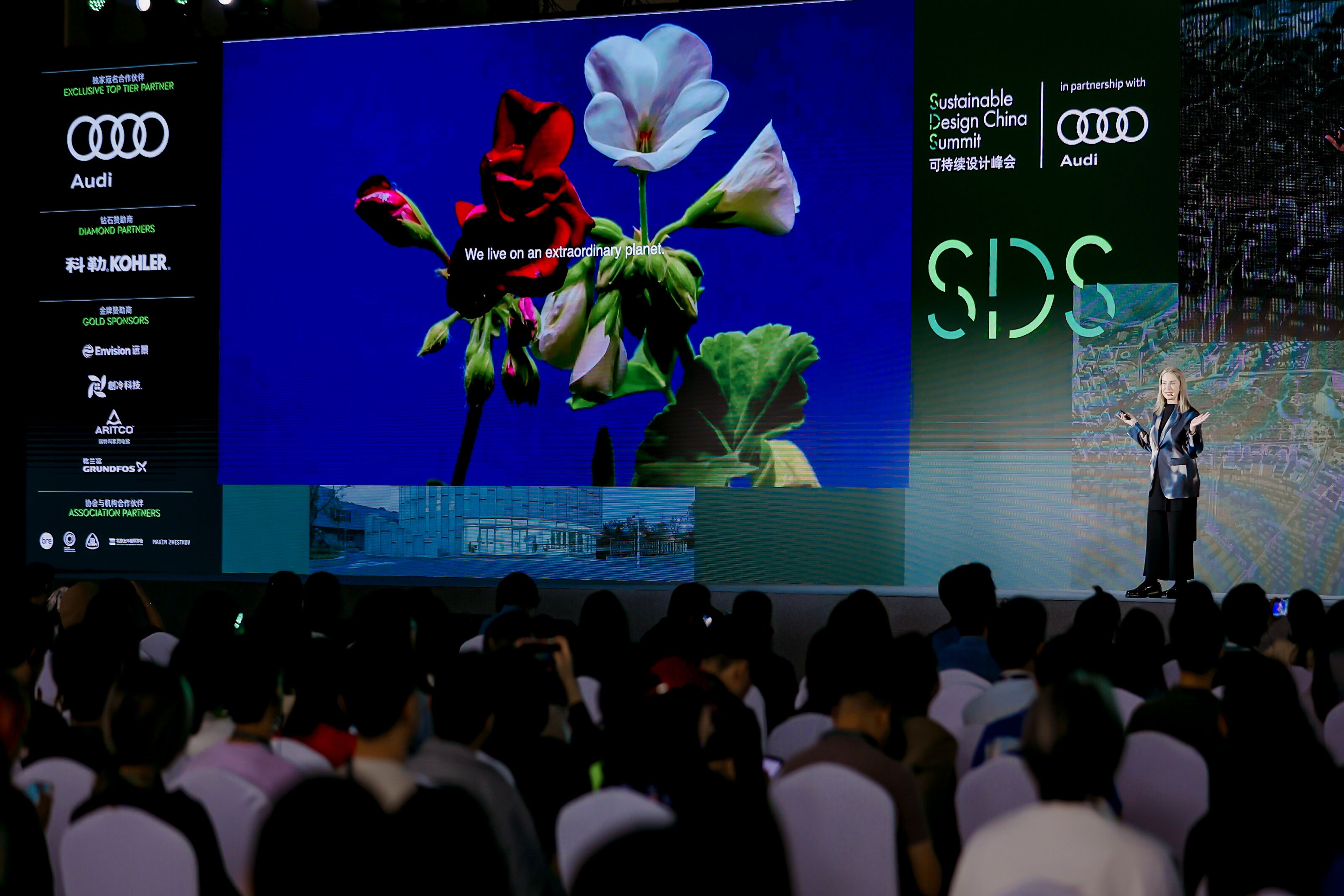 Orianna Fielding, Chief Sustainability Advisor & Content Director for the Sustainable Design China Summit
Mario Cucinella, Founder and Director of Cucinella Architects added, "I believe that for a leading country in the world, if China takes action in this direction, it will become a guiding light for many other countries. Sustainability is a global issue, and as humans, we are on a unique planet; we should collectively strive in this direction to save our planet. Therefore, this summit will be very important for the environment because we are discussing the sustainability of the world. This is a very important moment. We are still in an ambitious phase, but the next step will not be more ambition, but action, making changes through practice."
Prof. EM Dr Wolfgang Feist, Founder of the Passive House Institute (PHI), Professor at the University of Innsbruck gave an inspiring talk about the benefits of Passive House design. "It has many advantages and allows for optimal comfort, such as healthy indoor air, and reduces the overall cost of living. It is also a very good solution for our climate protection because energy demand is only a tenth of what it used to be. In this way, we can very easily use renewable energy to meet all the needs in buildings.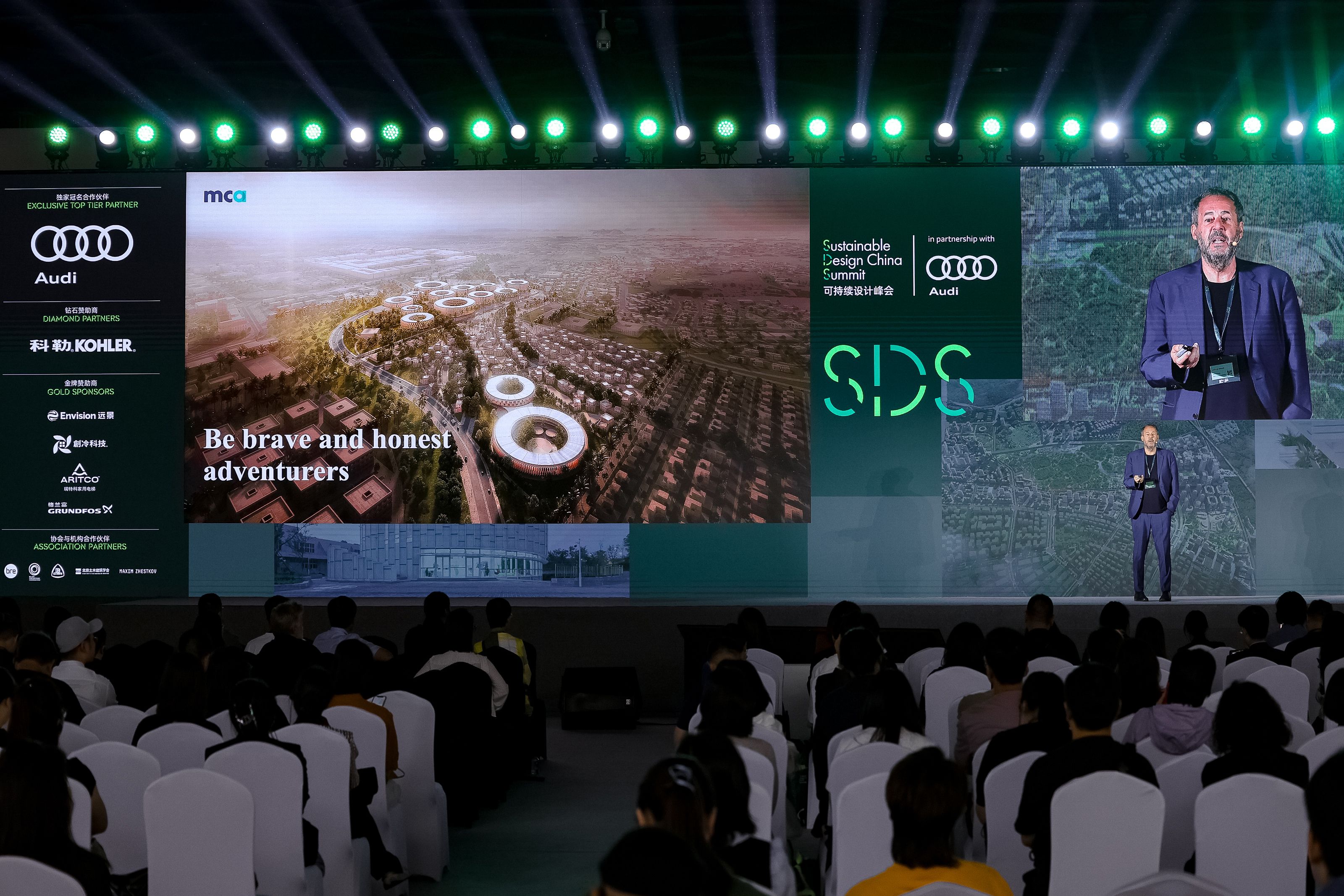 Mario Cucinella, Founder and Director of Cucinella Architects
Theme 2:Circular Design Matters
This theme examined circular design thinking, emphasising the elimination of waste and pollution from the source, recycling products and materiality, promoting the regeneration of nature, and creating an economic system that benefits people, enterprises and the natural world.
Dajian Zhu, Director of Institute of Governance for Sustainable Development, Vice Chairman of University Academic Committee at Tongji University in Shanghai spoke about the Circular Economy and its Impact on Peak Carbon Emissions and Carbon Neutrality. Zhu highlighted "Our circular economy design approach needs to encompass four key areas: energy decoupling, industrial decoupling, transportation decoupling, and construction decoupling. Considering the carbon emissions in these domains within China, we understand that the energy transformation into the power supply sector is the primary source of emissions, with industry, transportation, and construction playing vital roles as well. Additionally, we must focus on the entire lifecycle, as emissions occur not only during the operational phase but also throughout the stages of design, material selection, construction, operation, and disposal."
Qingqin Wang, Vice President of the China Academy of Building Research; Allan Zhang, Chief Executive Officer of Shui On Xintiandi Limited; and many other notable speakers also delivered exciting speeches on the first day of the summit.

Day Two
Theme 3: On the Path to Net Zero
This theme relates to the global Net Zero emission targets. Reaching net-zero operational and embodied carbon emission in the built environment is possible but requires clear and ambitious policies to drive a range of sustainable and effective measures including passive building design, material efficiency, the use of low-carbon materials and smart building technology.
John Haffner, Deputy Director-Sustainability of Hang Lung Properties discussed Opportunities and Challenges on the Path to Net Zero Carbon in Commercial Real Estate. He said, "We all know it's easier said than done; to achieve net zero carbon emissions we need to understand what should be achieved every year until 2050. We also need to set short-term, quantifiable goals and achieve intermediate milestones step by step."
There was a panel session on How to Balance Economic and Ecological Benefits in Zero-energy Building with panellists including Dr Raymond Yau, General Manager, Technical Services and Sustainable Development at Swire Properties. He said, "We really want to apply green and low-carbon practices and improve the level of building energy efficiency. Then we need to accelerate the optimisation of building energy consumption. The plan can be accelerated by electrification, which will have a huge impact."
Alwyn Li, Partner, PwC ESG - Sustainable Urban Service commenting on a session on Digital Technology Empowers Net-Zero and Sustainable Building System added, "While we meet the needs of the present generation, we still have to consider some of the resource needs of future generations. We cannot consume all resources at this stage."
Theme 4:Towards A Greener Future
This theme reflected on how the built environment is one of the key sectors to achieve the needed transition to a Net Zero future working with nature rather than against it. The sessions explored the opportunities, challenges and state-of-the-art methods and best practices to effectively implement and measure performance and impact.
The theme of Towards a Greener Future, held in conjunction with the BRE included a welcome speech from Gary Zhao, General Manager of BRE China who commented, "The development of sustainability has been slow and challenging over the past decade. In a society dominated by consumerism, sustainability seemed to have become more of a decorative concept in product design. However, sustainability is no longer optional; it's a necessity. It stands as a dynamic, ever-evolving concept, shaping our path toward a better future." David Schill, Marketing Director, Aritco Lift AB, meanwhile, said, "For brands, a significant challenge lies in whether end consumers are willing to invest in these pricier sustainable products. It's precisely why transformative innovations often debut in the high-end market; they carry the responsibility of spearheading new consumer behaviours and lifestyles."
Other notable speakers included MK Leung, Director of Sustainable Design, Ronald Lu & Partners, Angus Li, Senior Associate Director, Savills Property Services (Beijing) Co., Ltd., Chen Xu, Director of EHS Department, China Academy of Building Research Co., Ltd.
Day Three
Theme 5: Holistic Hospitality
Holistic hospitality is an approach to hospitality that focuses on the well-being of guests, employees, and the environment. It involves creating a welcoming and comfortable environment for guests while minimising the hotel's environmental impact and promoting employees' health and happiness.
In the morning of the final day's sessions Lucky Chan, President of Canbeauty Hotel Group's China, moderated a session on How Hotels are Blending Design and Technology for a Greener Tomorrow. He said, "A green hotel should not only reduce its environmental impact but also actively enhance guests' experiences, particularly highlighting post-pandemic consumer desires for sustainable and healthy experiences.
To achieve this often requires extensive groundwork." Ivan Chen, the Vice President of Hotel Lifecycle & Growth, Greater China, IHG Hotels & Resorts, who was a panellist in this session said "In China, every hotel's construction comes with corresponding benchmarks, which calculate the carbon emissions generated throughout the entire process of building from scratch. During the initial stages of hotel design, we need to consider every aspect of the project and set ambitious targets for minimizing carbon emissions."
Theme 6: The Empathetic Workplace
The workplace has changed for good, work can happen anywhere, anytime.
Sustainability, agility, co-creation, technology and wellbeing are informing the way in which designers are implementing and responding to these changes.
Qing Ye, the Chairman of Shenzhen Institute of Building Research Co Ltd. She said, "We focus on the technological progress with things as the core, which is very good for building energy conservation, maintaining structures, air-conditioning equipment, energy evaluation systems, improving renewable energy, and constantly pursuing sustainable development." Pearl Tang, Senior Partner, Foster + Partners, talked about the Empathetic Workplace stating, "A sustainable, people-centric office space not only prioritizes mental well-being but also yields long-lasting benefits, offering a distinctive experience for work and life, the essence of true sustainability."
Other keynote speakers on this day included Shuhei Aoyama, Partner & Principal Architect, B.L.U.E. Architecture Studio Founding, Mars Tang, Engineering Director, Technical Services, Hilton Enterprise Management (Shanghai) Co., Ltd., Antonio Citterio, Patricia Viel, CEO, Partner of ACPV ARCHITECTS.
There were three special curated projects which showcased innovative ideas around sustainable concept design and material innovations. Materials First was an installation by materials Designer and Curator Chris Lefteri, He presented 100 different materials from three fascinating categories: Mono materials, Waste, and Bio-materials. This project explored the limitless possibilities of these materials and their incredible organic connections to mankind. Lefteri also spoke about Sustainable Materials on the first afternoon of the Summit.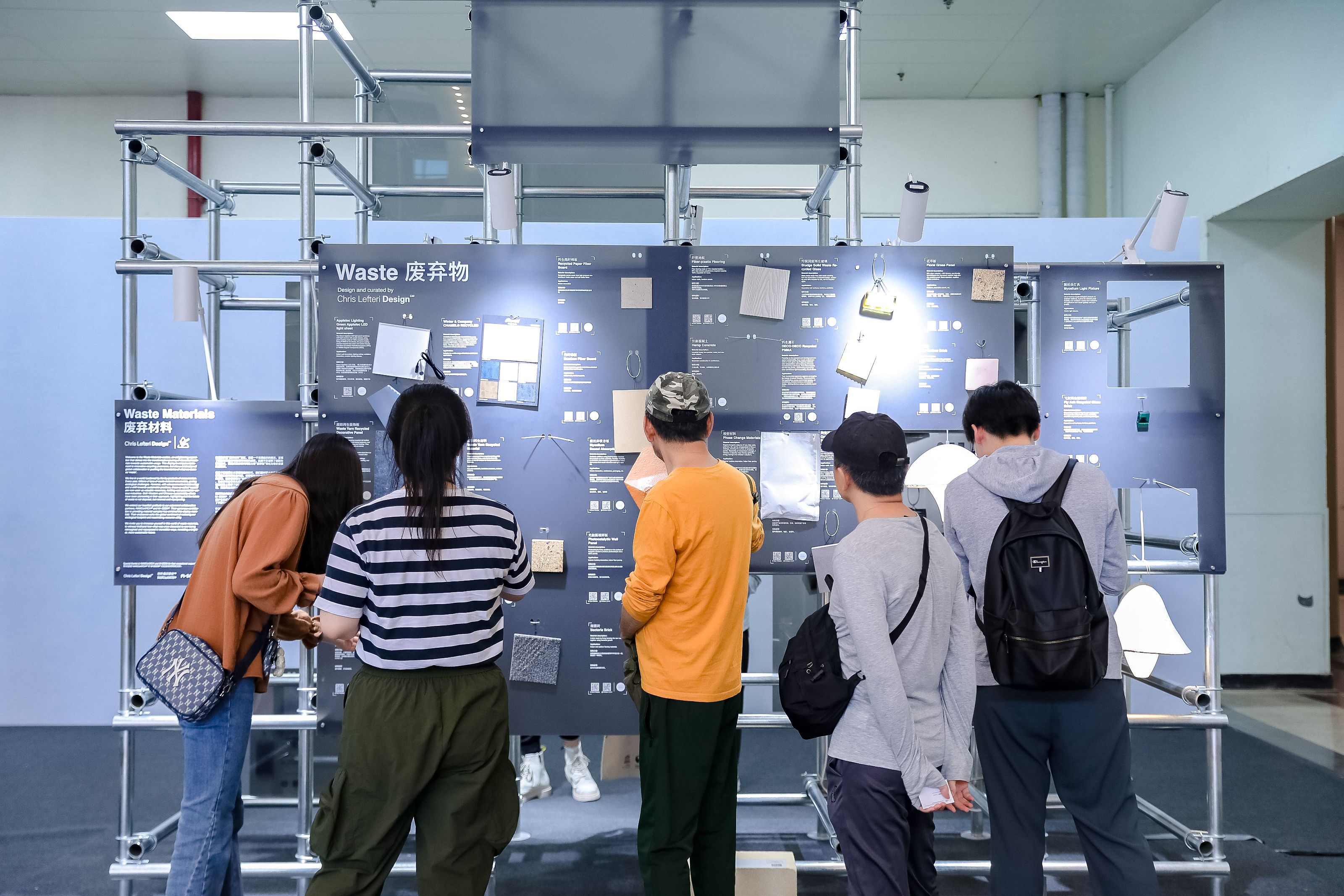 Materials First
Near & Distant was an inspirational exploration of how new media has brought individuals closer together and was organised in collaboration with the Social Innovation and Humanity Design Research Studio from the School of City Design at the China Central Academy of Fine Arts.
The exhibits delved into three dimensions: time, space, and events, providing an exclusive platform for emerging design talent to harness leading-edge patterns, mechanisms, and ways of thinking.
Finally, the Finland Pavilion, designed by PES Architectural Design Studio, provided a perfect fusion of sustainability and functionality. Several Finnish companies showcased their products including iittala, SAYYAS, Lunawood, MOOMIN WATER, aarikka, LOVI, PES-Architects, MOI Restaurant and Lounge, muurla. This project was fully supported and co-ordinated by The Embassy of The Republic of Finland in China, The Consulate General of Finland in Shanghai, and The Finnish National Agency for Education.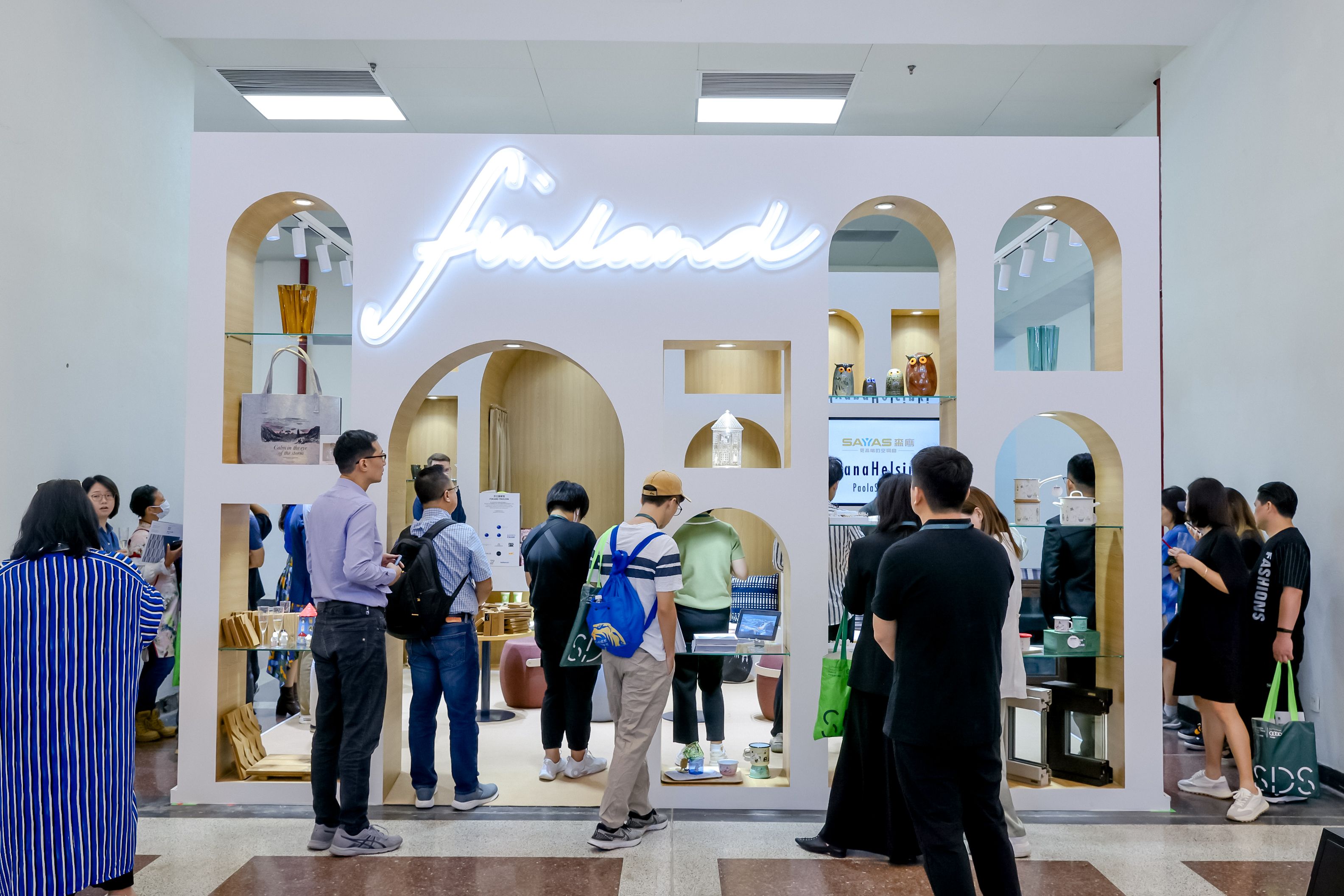 Finland Pavilion
The exhibition area was larger than the previous year and this allowed for the inclusion of a broader array of environmentally-conscious products. Among the exhibitors were Bfom, Deco·Deco, Gaonas, Dianpin, IQAir, ABC – Stone, Sunon, Chazence, M-seen, Dress Green, Dear Tree, RAC Studio.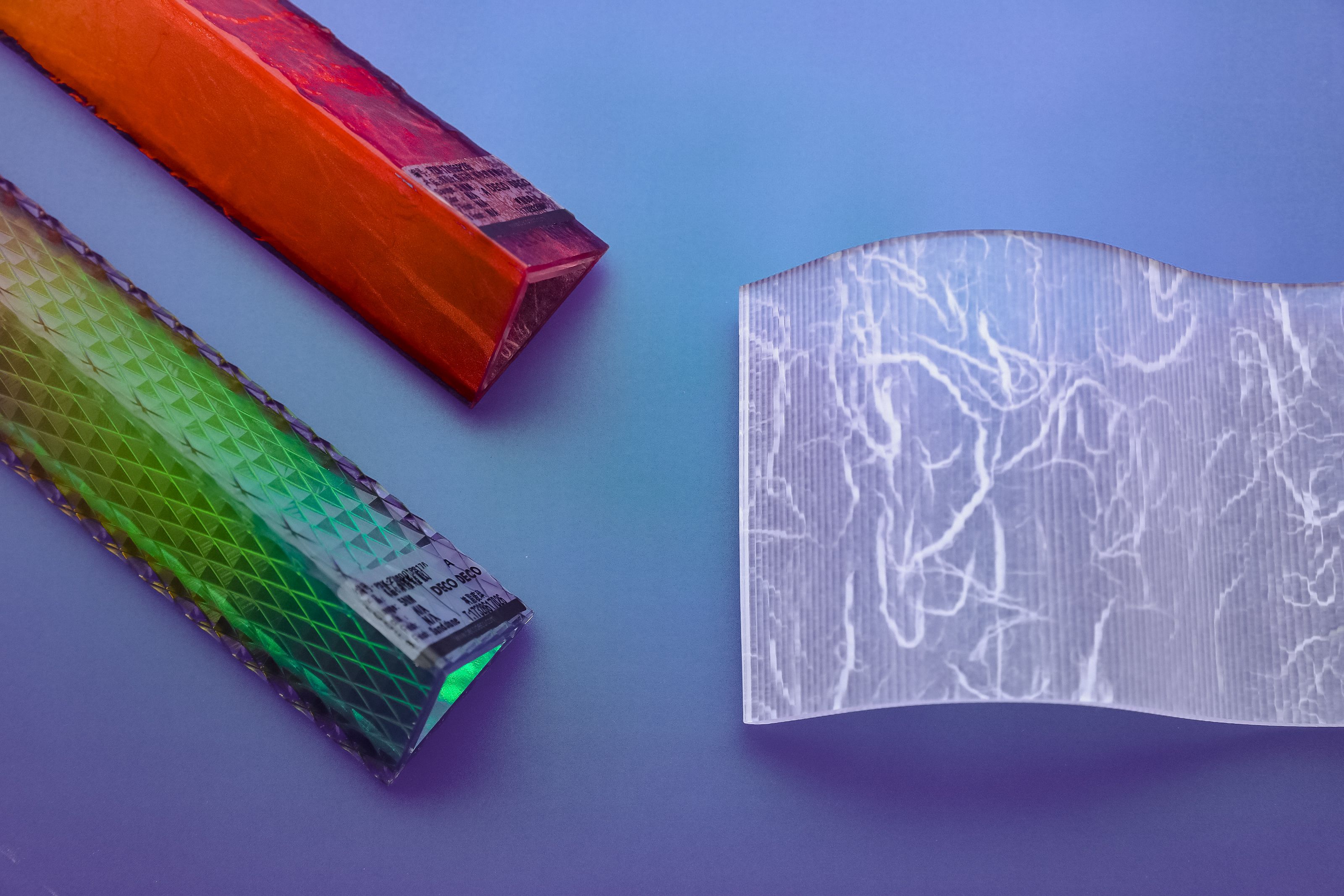 Deco·Deco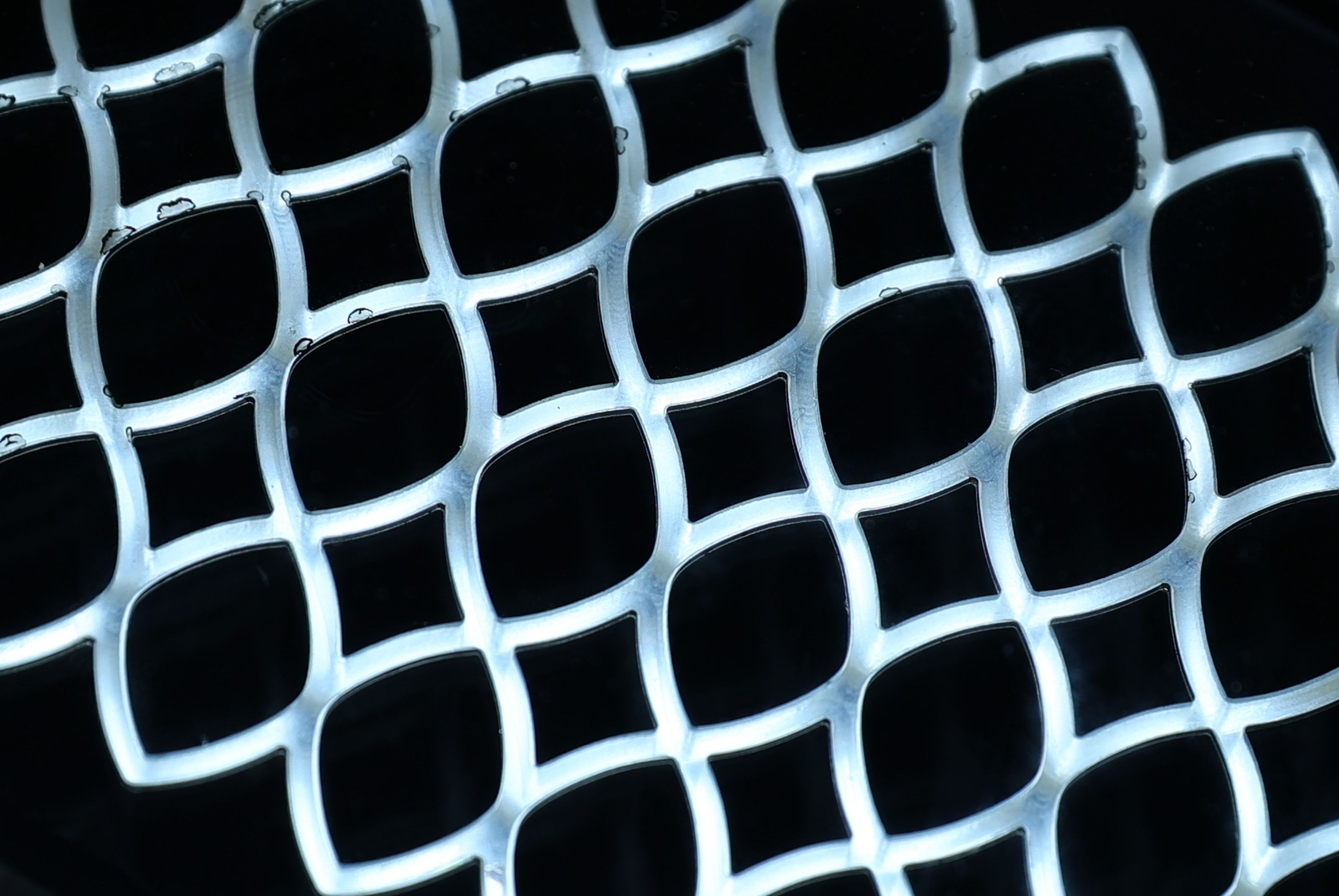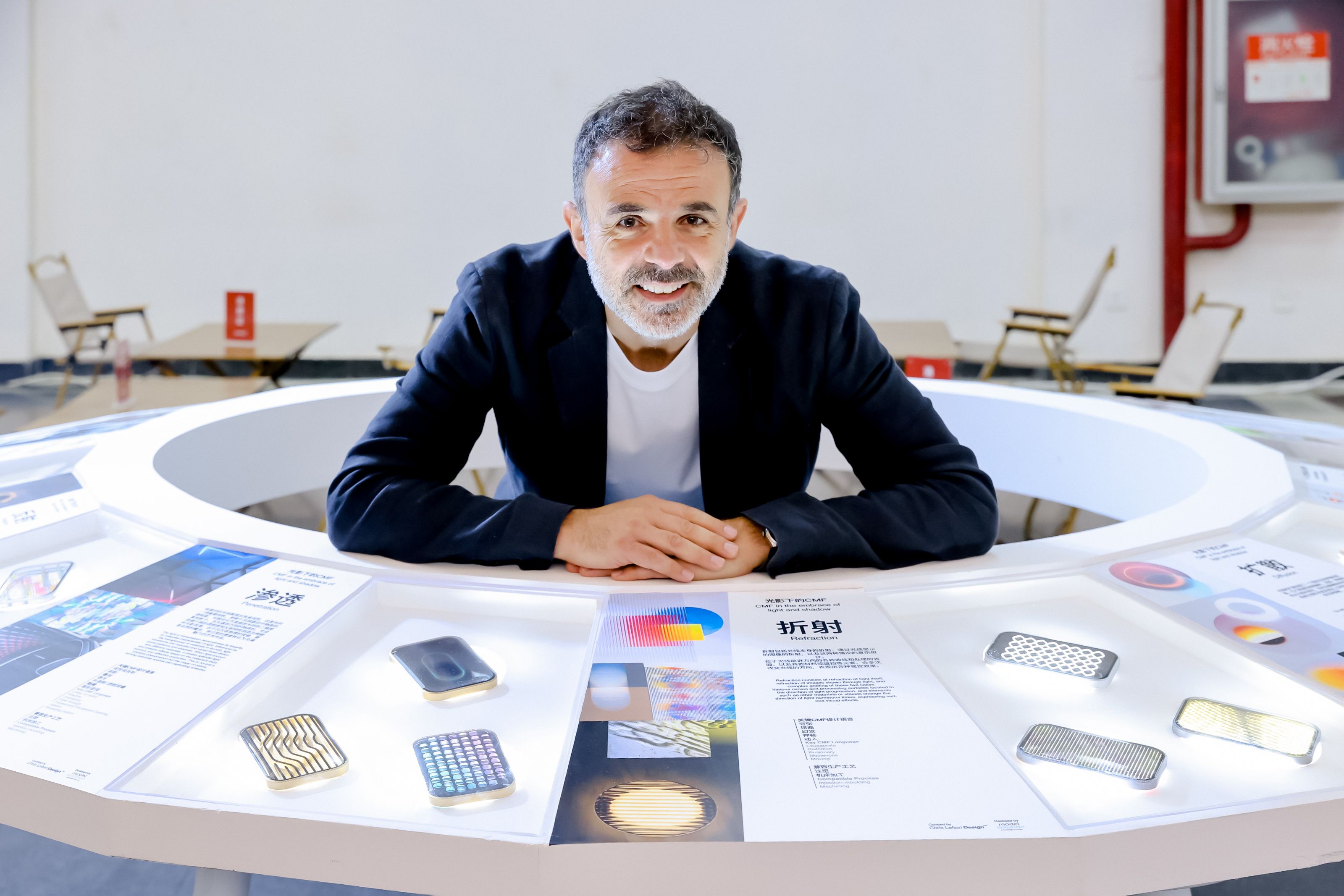 Chris Lefteri Design
This year's Summit was supported by The Audi Group which was the exclusive top-tier partner, with a commitment to playing a leading role in designing a sustainable future.
"The Audi e-Tron GT presented at the Summit is the perfect combination of breath-taking design, powerful electric drive, sustainable material, and dynamic performance, demonstrating design and sustainability can go hand in hand at Audi," said Katy Tsang, Audi China Executive Vice President of Sales & Marketing. From product design, green production and resource reuse, Audi promotes sustainability in a holistic way across the entire value chain.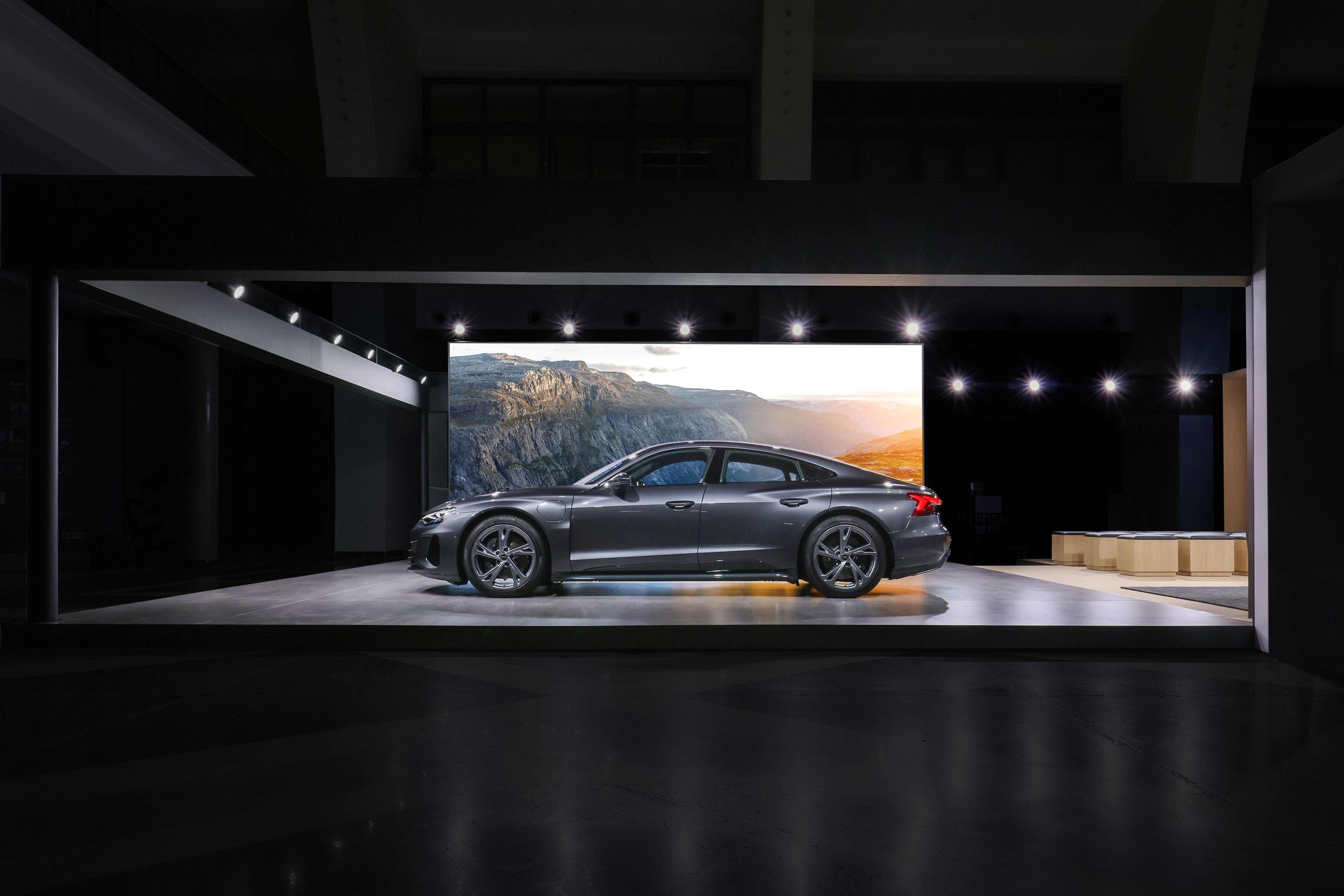 The Audi Group, Exclusive Top Tier Partner
Praising the show, Mario Cucinella, Founder and Director Cucinella Architects said, "I believe that for a leading country in the world, if China takes action in this direction, it will become a guiding light for many other countries. Sustainability is a global issue, and as humans, we are on a unique planet; we should collectively strive in this direction to save our planet. Therefore, this summit will be very important for the environment because we are discussing the sustainability of the world. This is a very important moment. We are still in an ambitious phase, but the next step will not be more ambition, but action, making changes through practice."
Overall, the Sustainable Design China Summit presented the perfect opportunity to establish valuable connections between the architecture and design community as well as national and local government officials and specialists in development and education, all united in their desire to tackle climate change.
Commenting on the 2023 Sustainable Design China Summit, Zhuo Tan, Show Director of Sustainable Design China Summit, "We are delighted with the outcome of the show, which successfully provided a platform for sustainable design professionals to come together to discuss, network and make new connections so that we can all make a difference when it comes to our impact on the Earth."
"The first Sustainable Design China Summit in 2022 highlighted many of the issues that we are facing as a global community. This year's Summit was designed to bridge the gap between knowledge and action and focused on a clear message that Sustainability is no longer a choice. We shone a spotlight on the inspiring cases studies and sustainable developments that are taking place globally to address the planet's most pressing challenges by showcasing the solutions, the actions and the strategies that are being implemented by leading companies and thought leaders to make positive change," Orianna Fielding, Chief Sustainability Advisor & Content Director.
The next edition of the Sustainable Design China Summit will take place from 19-21 June 2024 at the Shanghai World Expo Exhibition & Conference Centre as part of Asia's leading international design event Design Shanghai and will once again explore the sustainability issues affecting our world today.