18/01/2022
Blast Studio 3D prints column from mycelium to make "architecture that could feed people"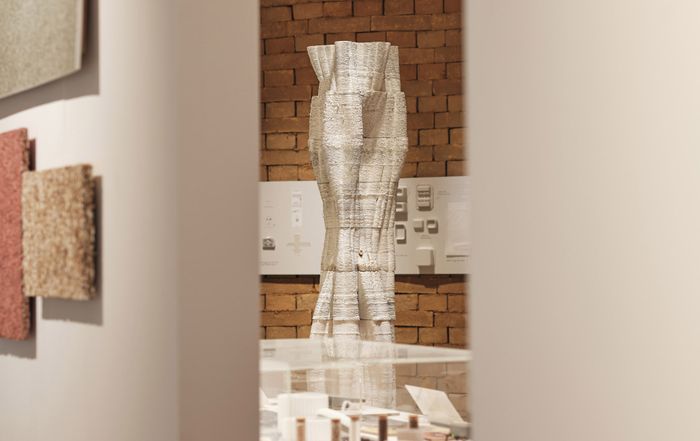 London practice Blast Studio has developed a method for 3D printing with living mycelium and used it to form a column that could be harvested for mushrooms before serving as a structural building element.
The two-metre-high Tree Column has a ridged, undulating structure reminiscent of a tree trunk. Its shape was algorithmically designed to enhance the column's structural capacity and provide optimum growing conditions for mycelium, the root system of fungi.
The column was constructed by mixing mycelium with a feedstock of waste coffee cups collected from around London and feeding it into a custom-made cold extruder, similar to the kind used for 3D printing with clay.
Once printed into shape, the mycelium consumes the pulped paper cups and grows to take over the whole column, producing mushrooms that can be picked off and eaten. The mycelium root structure is then dried to create a load-bearing architectural element with natural insulating and fire-retardant properties.
Blast Studio is working to scale up the technology to print a pavilion and in the future, it hopes to construct entire buildings. Co-founder Paola Garnousset said this could effectively allow cities to grow architecture from their own waste while providing food for their inhabitants.
The article was originally published on Dezeen.