25/05/2022
BIG completes "world's most environmentally friendly furniture factory" in Norway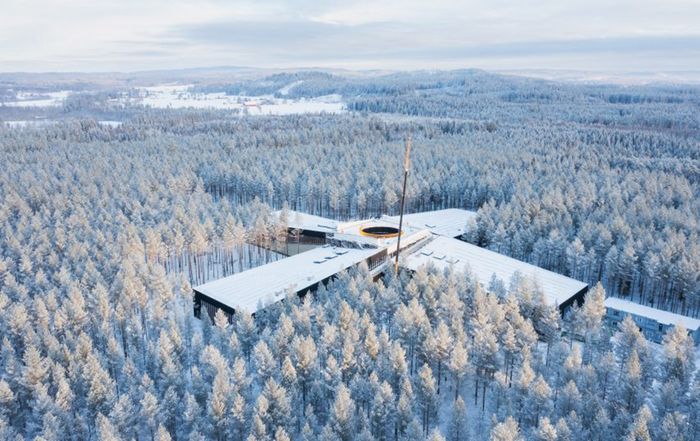 Architecture firm BIG has constructed a mass-timber Passivhaus factory in a Norwegian forest for outdoor furniture maker Vestre, which features a green roof and solar panels as well as an exterior slide.
Instead of being hidden away on an industrial estate, The Plus factory development is nestled in 300 acres of woodland near the village of Magnor on the Swedish border.
The cross-shaped building consists of four double-height wings, each housing a different stage of Vestre's production process and radiating out from a central office area with an internal courtyard at its heart.
Constructed in just 18 months, the 7,000-square-metre factory is made mostly from wood and stores 1,400 tons of carbon dioxide in its structure made of PEFC-certified cross-laminated timber (CLT) and glued-laminated timber (glulam), Vestre said.
The building combines energy-efficient Passivhaus strategies with a streamlined, robot-assisted production line, which according to Vestre reduces its energy consumption by 90 per cent compared to a conventional factory.
Its energy and heating demands will be partly met with the help of 900 rooftop solar panels, 17 geothermal wells and heat pumps hidden behind the walls to capture excess heat from the production process.
Taken together, Vestre says this makes The Plus the "world's most environmentally-friendly furniture factory", generating 55 per cent lower emissions from energy and materials than a comparable building.
The article was originally published on Dezeen.